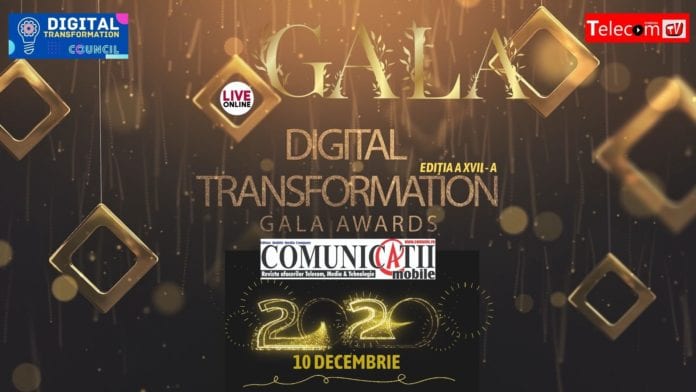 THE GALA EVENT CONNECTING STATE-OF-THE-ART TECH SOPHISTICATION & PASSION WITH TELECOMS & DX WIZARDS AND PRACTITIONERS!
One global crisis year – One day of hope recovery!
DIGITAL TRANSFORMATION COUNCIL
"MOBILE COMMUNICATIONS" MAGAZINE & TelecomTV PRESENT
DX AWARDS FOR ROMANIA
VIRTUAL – 10 DECEMBER 2020, 10:00
Join our anniversary:
22 YEARS IN ROMANIA & 17 YEARS OF NATIONAL GALA AWARDS!
THE GOLDEN DAY of TELECOMS & DIGITAL TRANSFORMATION (DX)
MAJOR CELEBRATION & NATIONAL REPUTATION
DIGITAL TRANSFORMATION GALA 2020 will attract, both for the Debate and the Awards Ceremony, the high elite of the business leaders, professionals, influential thinkers, decision makers and executives from Romania and SE Europe region. DX GALA rewards both the individuals and companies with great achievements in developing new and innovative services to improve our lives with DX solutions and projects.

The great competition is open to…
Operators, Carriers, Content providers or Companies developing & using digital services are invited to apply to the National Awards. Let's celebrate the greatest performance on the market, featuring a virtual online Debate Show & VIP Forum – the greatest annual opportunity to see and network online with the most important business leaders and executives of the smart industries in Romania.

Targets
The national virtual flagship ICT Debate starts with the latest global concepts and high-tech trends of Digital Transformation (DX) in COVID-19 crisis addressed to the Romanian top 30 converged industries: Aviation, Agribusiness, Automotive, Banking & Finance, Business Services, Gambling & Gaming, Construction, Defense, Education, Energy & Natural Resources, Environment, Gas & Oil, Government, Health, Hospitality, Insurance, Internet, Media, Private Equity & Investment Firms, Security, Transportation, Utilities and Venture Capital. We are targeting +300 companies with DX resources in Romania with high successful potential DX in 2021.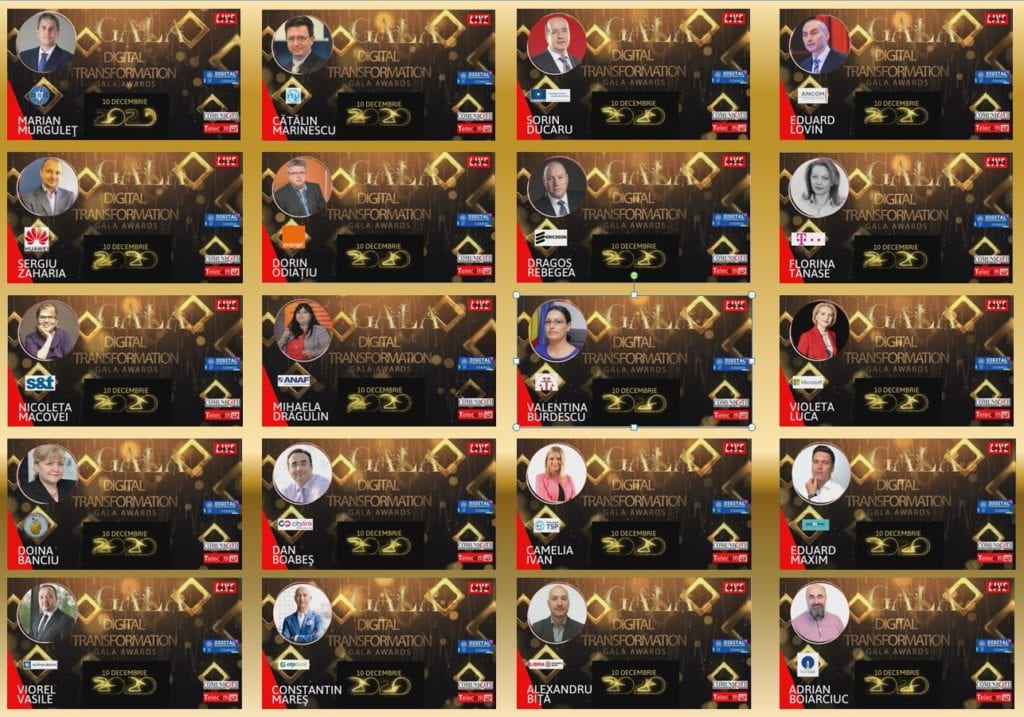 Marian
MURGULEŢ
Secretar de Stat
CIO Office
GUVERNUL ROMÂNIEI
Cătălin
MARINESCU
Head of Corporate Strategy Division
ITU
Sorin
DUCARU
Director
CENTRUL SATELITAR UE – SatCen
Eduard
LOVIN
Vicepreşedinte
ANCOM
Dorin
ODIAŢIU
Public Affairs, Partnerships & Wholesale Director
ORANGE ROMANIA
Sergiu
ZAHARIA
Cyber Security Officer
HUAWEI TECHNOLOGIES
Florina
TĂNASE
Legal and Corporate Affairs Director
TELEKOM ROMANIA
Dragoş Mircea
REBEGEA
Country Manager
ERICSSON ROMANIA
Nicoleta
MACOVEI
Director General
SNT
Valentina
BURDESCU
Director General
ONRC
Violeta
LUCA
General Manager
MICROSOFT ROMANIA
Mihaela
DRĂGULIN
Director General Adjunct – Direcția generală de asistență pentru contribuabili
ANAF
Eugen
SCHWAB CHESARU
Vicepreşedinte
PAC–TEKNOWLOGY
Ovidiu
PARASCHIVESCU
Director Marketing
CITYLINK
Camelia
IVAN
CEO
TRANS SPED
Alexandru
BIŢĂ
Chief Technology Innovation Officer
LIBRA INTERNET BANK
Eduard
MAXIM
Chief Marketing Officer
PAYByFACE
Viorel
VASILE
Director Unitatea Carduri
ALPHA BANK
Adrian
BOIARCIUC
Director Direcţia Tehnologia Informaţiei
ROMGAZ
Constantin
MAREŞ
Executive Director in charge with IT, PMO & Transformation Office
OTP Bank Romania
Ion
VACIU
Preşedinte
DIGITAL TRANSFORMATION COUNCIL
FELICITĂRI CÂŞTIGĂTORILOR GALEI DIGITAL TRANSFORMATION 2020!
GALA TOPICS

NATIONAL DEBATE: ROMANIAN TELECOM, MEDIA & TECHNOLOGY REPORT 2020

• Digital Transformation (DX) Strategy for Digital Economy fuelled by Cloud Computing, Big Data, AI, ML, IoT & 5G

01. How DX Could Reduce the Big Disparity between Romania and other EU countries;
02. How Can European Funds support the massive National Digitalization;
03. Romanian Telecom & IT Industry Status (2020 key figures & 2021 perspectives);
04. The National Broadband Infrastructure: Investments, Developments & Cloud Expansion;
05. 4G and 4.5G Were the Beginning of the Superfast Highway, But 5G is already the real challenge;
06. 5G National Strategy Delay:Advantages and Disadvantages;
07. Our National Networks are the best, but we are missing the Digitalization of the public services;
08. Enterprise Mobility & Productivity: a New Revenue stream for telecom players;
09. Data Consumption: greedy consumers never stop. How can telecom satisfy them?
10. Cyber-Security Thinking: crucial trends for a Safe Business Experience

MANIFESTO 4 NATIONAL DIGITAL TRANSFORMATION (DX)

• DX MEETS CONVERGED INDUSTRIES:
AGRO, AUTO, BANKING, EDUCATION, FMCG, GOVERNMENT, HEALTH, MANUFACTURING, SECURITY etc.
• The New Trends | AI | AR | BA| BI| EDGE | eID | Machine Learning | VR |
01. The Era of the Smart Industries: Why 5G is a major catalyst for DX;
02. DX is People Transformation: Leading Digital – Turning Technology Into Business Transformation;
03. What is the real Status of DX in Romania;
04. What are the Expected Impacts and Models of DX opportunities for Romanian companies;
05. What is the Future Horizon of DX deployment and what are the main roadblocks to overcome;
06. Drive DX with Workload Automation for the Hybrid IT Enterprise (SaaS);
07. Accelerating your DX while shaping your customer experience by distance;
08. The role of Data Driven Strategy in DX;
09. Connecting Banking, Fintechs and Incumbents – a double sided challenge;
10. Digital Assistants: Meet next-generation high-quality customer experience through AI.
MORE THAN 350 PLAYERS IN 17 YEARS OF GALA C@M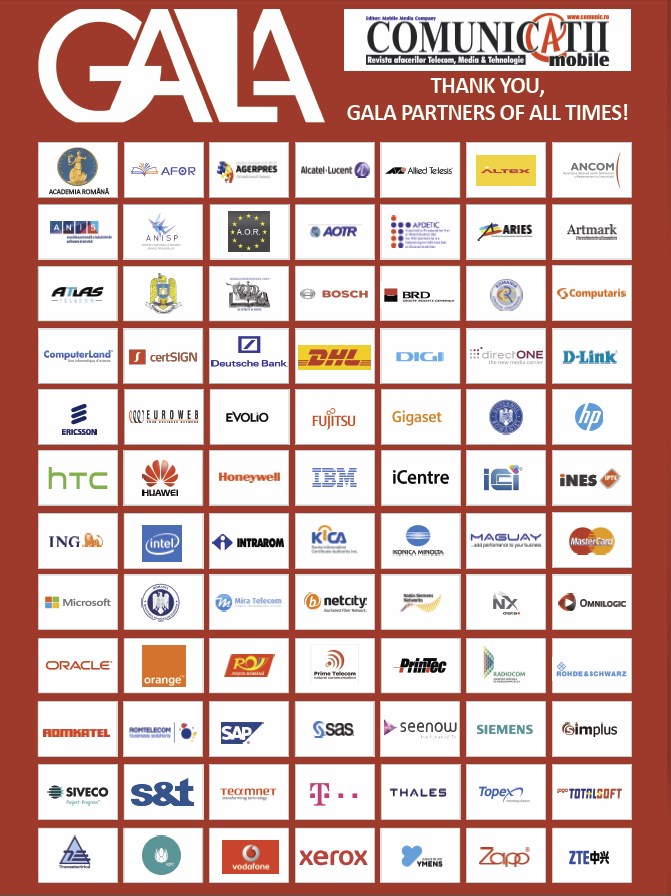 Registration contact
Roxana Onea | Marcom Director
Email: roxana.onea@comunic.ro
Mobile: +40.723.319.678