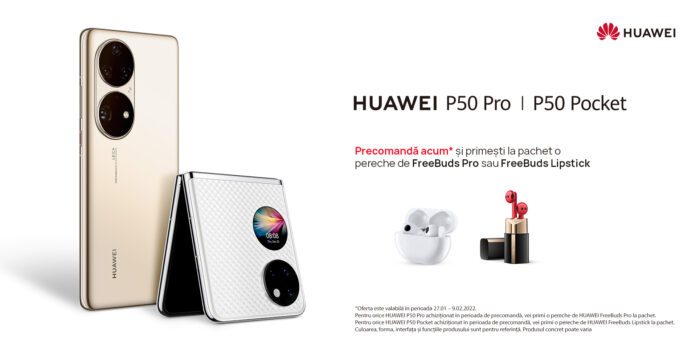 The new Huawei phones, P50 Pro and P50 Pocket, come with True-Chroma Image Engine technology, the P50 Pro being equipped with a next-generation multi-spectrum ambient light sensor that allows the camera to capture colors as users see them, supporting P3 color range for fine adjustment.
The two models are available for pre -order online on www.huaweistore.ro . The recommended price of HUAWEI P50 Pro is 5,499 lei, bundled with HUAWEI FreeBuds Pro Ceramic White, and HUAWEI P50 Pocket is available at the recommended price of 6,499 lei and comes bundled with HUAWEI FreeBuds Lipstick. Until the end of February, buyers of P series products can purchase the extended warranty service for 1 year at half price.
The camera matrix in the HUAWEI P50 Pro includes two lenses – an RGB lens and a monochrome lens – and a multi-spectrum sensor. RGB lenses are similar to those of a human eye cell, responsible for RGB channels and brightness perception. While the monochrome lens senses brightness in low light scenarios, the multi-spectrum sensor reads the full light spectrum of the current scene.
Through years of research and development, Huawei has launched a 10-channel multi-spectrum sensor for more accurate environmental information based on human eye color perception. Thanks to the invention of this new color channel, a century of study of color science can now be applied to the 10-channel multi-spectrum sensor. This next-generation multi-spectrum ambient light sensor can read almost the entire light spectrum. This significantly increases the performance of low light shooting. The sensor can identify 50% more of the color spectrum and 20% less chromatic irregularities to reproduce and improve more accurate resolutions.
As the image signals are processed, the software solution automatically calibrates the color, with the device faithfully reproducing what users see on the screen. The HUAWEI P50 Pro offers a unique approach to replacing traditional AWB and DC modules for capturing real colors with the HUAWEI P50 Pro AI Color Constancy algorithm.
Going beyond the P40 series, the P50 Pro now makes a fine adjustment for over 2,000 colors instead of optimizing the priority color block only in the RGB color range.