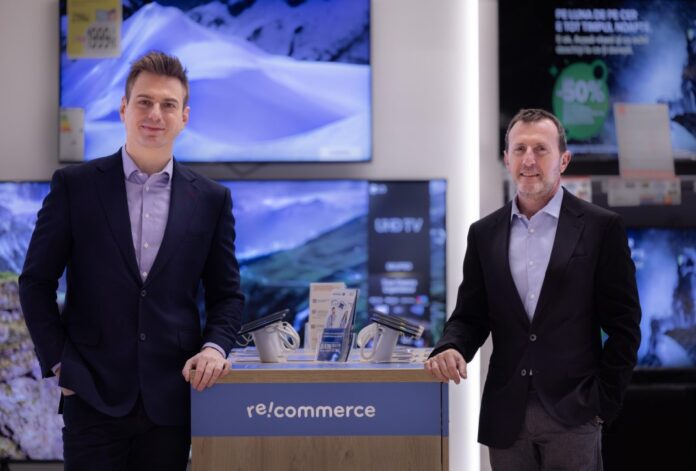 The Recommerce Group start-up, specialized in reconditioning and selling used smartphones, has concluded a strategic partnership with Carrefour Romania, based on which the reconditioned smartphones of those from Recommerce Group can be found for sale both in the online store Carrefour Romania, as well as in the physical stores in Băneasa, Orhideea (Bucharest), Botoșani, Brăila, Constanța, Târgu Jiu and Felicia (Iași). Six refurbished Apple and Samsung phone models are currently on display in these stores, with company officials preparing to expand distribution to other Carrefour stores in Romania in the first quarter of 2022.
Recommerce Group has been present in Romania since the acquisition of the Romanian startup Fenix, a company specialized in smartphone refurbishment, co-founded in April 2020 by entrepreneurs Grégoire Vigroux, Adrien Arnoux and Hector Destailleur. Founded in 2009, Recommerce sells refurbished smartphones in 20 European countries.
In Romania, Recommerce sells over 20 models of refurbished smartphones, which reach costs up to 50% lower than new models, according to company officials.
Grégoire Vigroux comments that he launched the start-up in April 2021, with the aim of becoming the leader in the refurbished smartphone market in Eastern Europe. "We are targeting a market that includes approximately 10 countries in the region, starting with Romania, and records annual sales of over 50 million phones," he said.
According to Apple, an iPhone 12 phone with a capacity of 256 GB generates 85 kg of CO2 emissions, of which more than 70 kg are attributed only to its production. According to a study by the European Economic and Social Committee, the manufacture of a new smartphone requires, on average, 44 kg of raw materials from 70 materials, for a finished product that weighs less than 200 grams, while a refurbished smartphone can reduce the carbon footprint by up to 30 kg.