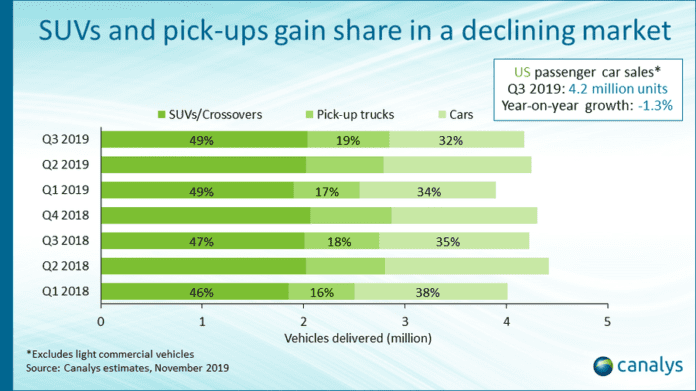 According to the latest research from Canalys, 4.2 million passenger cars were delivered to customers in the US in Q3 2019, a slight year-on-year decrease of 1.3%. During the first three quarters of 2019, deliveries were down 2.7% compared with the same period in 2018. New energy vehicles declined by 18.0%.
Canalys tracks the sales performance of the entire car market. This includes over 300 vehicle models from 40 car brands. As Chief Analyst for automotive at Canalys, Chris Jones explains, "Despite a strong economy and low unemployment, overall demand for new cars continues to be weak in the US. There are too many brands and too many models for a declining passenger car market. Car-makers must reset their market opportunity expectations and streamline and refresh their vehicle line-ups, retiring unprofitable models."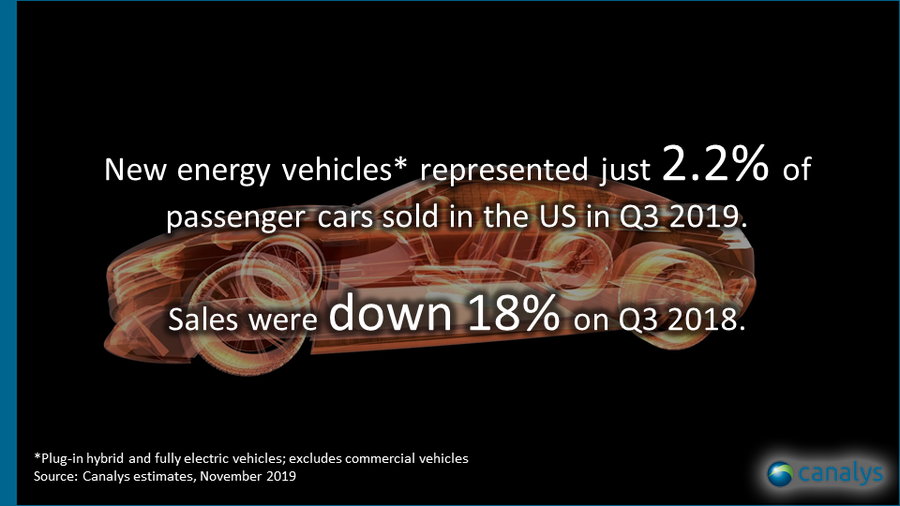 "Urbanization continues as more young people move to cities for employment. On-demand urban mobility solutions, such as ride hailing, and car, bike and scooter sharing, offer many affordable, flexible ways to get around cities without the expense of owning an under-utilized car," said Jones.
The big disappointment is the continued low sales of new energy vehicles (NEVs) in the US. Only 90,000 NEVs (plug-in hybrid, full electric and fuel cell vehicles) were delivered in Q3 2019, down 18% from Q3 2018, according to Canalys estimates. NEVs represented just 2.2% of total passenger car deliveries in the US in Q3 2019. In comparison, sales of non-commercial small and medium-sized pick-up trucks, SUVs and crossovers all grew in Q3 2019, while sales of other passenger cars declined by 10% compared with last year, according to canalys.com.
Tesla sold more NEVs than all the competition combined, to command a market share of 60%, but even its sales were down more than 20% year on year.
"There is a severe lack of vehicle choice when it comes to NEVs in the US. Deliveries of the market-leading Tesla Model 3 have peaked, but there is nothing new from the competition to challenge it. This needs to change in order to grow the EV charging network, spur demand for zero emission vehicles and, as a result, improve air quality in US cities," said Jones.
Each quarter Canalys produces a comprehensive intelligent vehicle sales database showing the advanced driver assistance, connectivity, convenience and safety features in new cars.