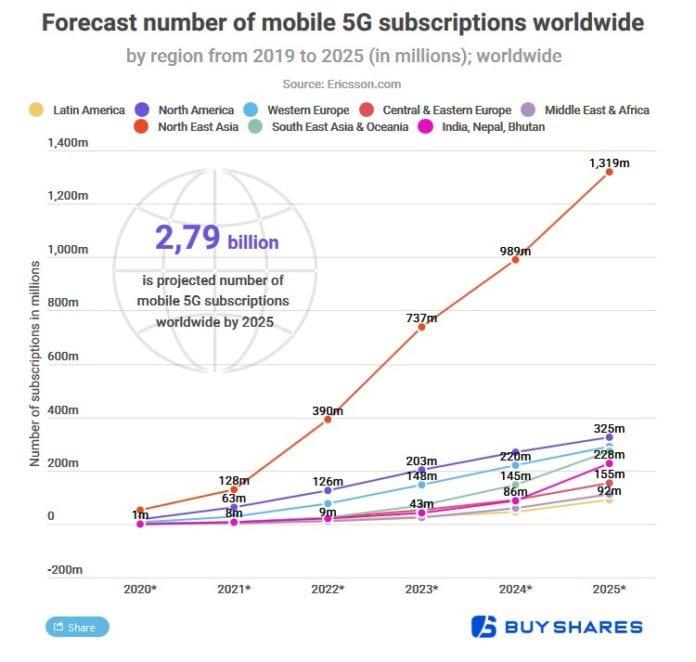 Data presented by Buy Shares indicates that the number of 5G global subscriptions is projected to hit 2.7 billion. The figure accounts for about 35.8% of the current global population.
North-East Asia region to lead in subscriptions
In 2025, the Nort East Asia region is expected to have the highest subscriptions at 1.3 billion.
The 2025 subscriptions represent a growth of 3391.25% from the 80 million subscriptions for 2020.
Next year, the subscriptions will stand at about 243 million, a growth of 203.75% from the 2020 figures. In 2022, there will be an estimated 680 million 5G mobile subscriptions. The 2022 subscriptions are set to grow by 456.8% and hit about 1.3 billion in 2023. The growth in 5G mobile networks will continue in 2024 with about 1.9 billion subscriptions.
The 5G network comes with various benefits hence the hype around it. According to the research report:
"With the much-hyped network, the combination of speed, responsiveness, and reach has the potential to unlock the full capabilities of other trends in technology. The network will play a vital role in enhancing the full capability of self-driving cars, drones, virtual reality, and the internet of things."
The Buy Shares research also overviewed the global mobile coverage rate by different technologies between 2011 and 2025. In 2011, the LTE network coverage rate was 5% globally while in 2020, the coverage is expected to be 83%. By 2025 projections, the LTE coverage rate will be 91%.
Elsewhere, the 5G network coverage rate stands at about 7% in 2020, and it's projected to hit 55% by 2025. The coverage rate for all 3GPP cellular networks has been high from 2011 when it stood at 87%.
In 2020, the coverage rate for the 3GPP cellular network is at around 95%, a rate is expected to remain constant for the next five years.